Concrete ART Project 2023
On 31.07.23 it started again in Aachen and Dresden! As part of the CRC/Transregio280, children, young people, artists and scientists gave free rein to their creativity. We wanted to inspire young people in a sustainable and creative way for the topic "Building in the future with concrete". The concrete art project went into the second round after the very successful kick-off event last year. We are pleased to be able to offer this interesting program for schoolchildren again this year.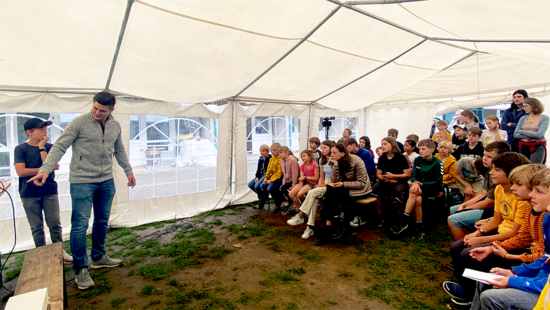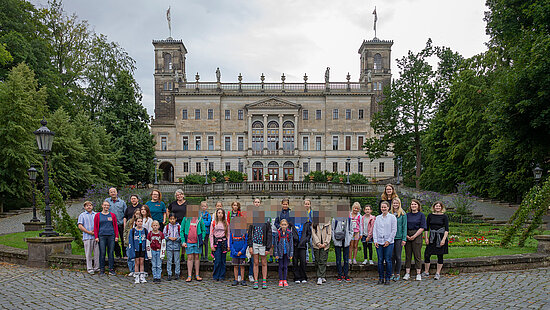 Location Aachen
Bleiberger Fabrik
From 31.07. to 04.08.23, the youth education center at Rolleferberg in Aachen was once again the place to be! Under the title "Concrete Art Project 2023", the children experienced a creative and scientifically accompanied vacation week. Together with Werkwochen e. V. of the Bleiberger Fabrik, a concrete-oriented and sustainable workshop took place in cooperation with the CRC/Transregio 280. Almost every morning, scientific basics on the topic of construction were proactively taught. The experiments presented ranged from the loading of a small textile-reinforced concrete beam, to the sustainability of building materials, to structural analysis, and finally to the hammer test, in which participants were allowed to drop the hammer on a 1 cm thick concrete slab. The event was rounded off with a creative approach to concrete, in which the participants were able to work on concrete creatively through various processes. Art instructors Andreas Robertz and Antonio Nuñez assisted the children in creating their works of art. The last day was used to prepare a small exhibition, to which parents, friends and the Aachener Zeitung were invited.

We would like to thank the Bleiberger Fabrik, Werkwochen e. V. , the artists Antonio Nuñez and Andreas Robertz and the scientists of the CRC/Transregio 280 for their support.
The "Beton KUNST Projekt 2023" is a renewed cooperation between RWTH-Aachen University and JKS Bleiberger Fabrik, and will be accompanied by scientific staff of RWTH-Aachen University, who will support on site with their know-how and technical support.
Age: 7-18 years
Location: BDKJ Jugendbildungsstätte Rolleferberg, Rollefbachweg 64, Aachen, 52078 Germany
Fee: There is no additional fee for participating in the work weeks
Course management: Andreas Robertz, Antonio Nuñez
Pedagogical supervision: Teamer of the work weeks
Research assistants: Sven Bosbach, Leonie Mester, Alexandra Weniger, Wiebke Kathmann, Martin Scheurer, Maximilian Faust
Technical staff: Mike Güldenberg
Public relations: Angela Alvarez y Leal
Dates: 07/31 - 08/04/2023 9:30 a.m. - 4:30 p.m. each day.
Registration deadline: 10.07.2023
The number of participants is limited. Registration is online at: https://www.bleiberger.de/werkwochen
Location Dresden
Jugendkunstschule Dresden
In the "Concrete ART Project 2023", schoolchildren were once again able to experience live how science meets art from July 31 to August 04, 2023. During the 2nd summer vacation project week at Albrechtsberg Castle, 24 participants once again came into contact with different types of concrete and were able to give free rein to their creativity while experimenting. Birgit Beckmann from the Institute of Concrete Structures at the TUD Dresden University of Technology welcomed the children in attendance and began the project week by giving them a brief, child-friendly insight into the subject of concrete. With a lot of imagination, concrete production can be compared to baking a cake - of course with different ingredients. After a joint group photo and some challenging group games, the group was divided among the four different workshops. Playfully exploring and trying things out, the young researchers discovered exciting combinations with other materials such as wood, clay and textiles together with four wonderful Dresden lecturers. The scientific staff of the TUD Dresden University of Technology were on hand to offer advice and support to the children and the lecturers. The second day began in less than ideal weather with a small excursion into the surrounding nature. With the help of small practical examples, it was impressively demonstrated how skillfully nature acts as a master builder and many forest fruits for the creative material combinations ended up in the pockets of the students. The excursion was also used to collect trash. On the fourth day of the project week, a visit to the carbon concrete house CUBE on the campus of the TUD Dresden University of Technology was on the agenda. In addition to an introductory lecture, an exciting load test with an unreinforced and a reinforced, narrow concrete slab was carried out on site. At the end of the project week, the small and large concrete creations were proudly presented to the numerous parents and grandparents in a small exhibition.
The "Beton KUNST Projekt 2023" is a renewed cooperation between the TUD Dresden University of Technology and the Jugendkunstschule Dresden. The project week was accompanied by scientific staff of the TUD Dresden University of Technology, who supported on site with their know-how, technical support and exciting experiments.
Age of participants: 8-14 years
Location: Albrechtsberg Castle - arts and crafts workshop, ceramics workshop, left remise, right remise
Fee: free of charge - sponsored by DFG
Course leaders: Nadine Wölk, Cornelia Chrominski, Naomi Bick and Andreas Eckard
Research assistants: Josi Giese, Clara Schramm, Petr Maca, Lena Leicht, Johanna Monka-Birkner and Birgit Beckmann as well as Silke Scheerer
Pedagogical support: Johanna Rehm
Public relations support: Stefan Gröschel
Date: 31.07. to 04.08.2023, in each case from 10 to 17 o'clock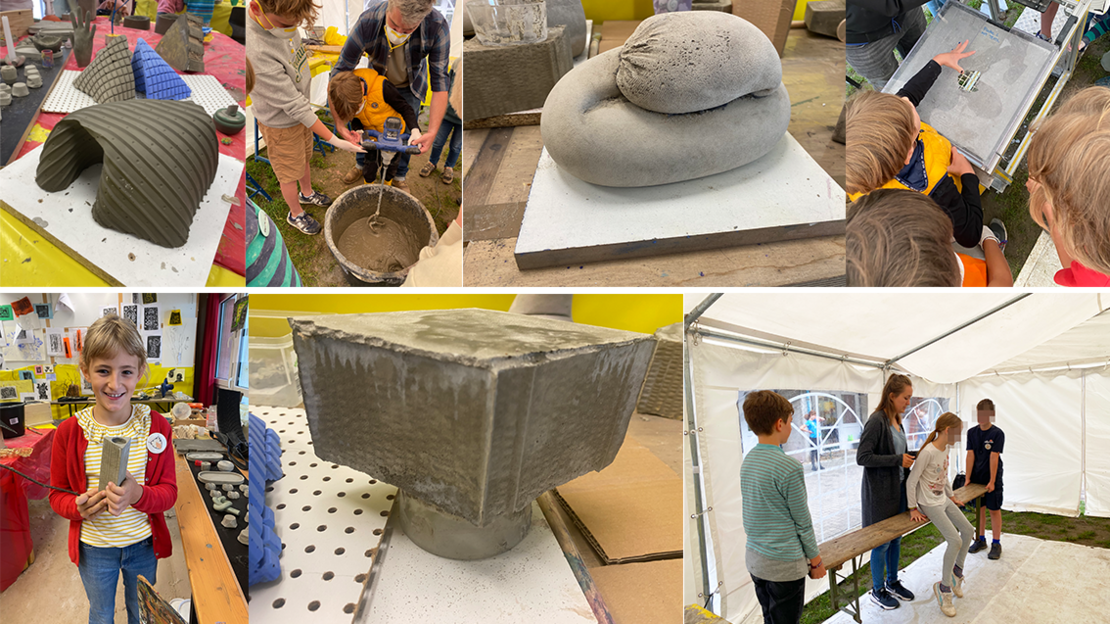 Andreas Eckardt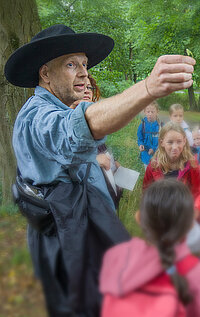 "We found a good form and welcomed the children every morning first. Monday was a playful day and we tried to build up a group feeling until lunch. We developed quite a good pace there, and then from Monday afternoon until Friday we went productively into the individual workshops.

I was actually just lucky with the kids that were there. And I felt like I shared that with my colleagues as well. There was good chemistry between the students and friendships formed as well. I had very active children with me, very, very productive, creative, and of course also children who needed support and encouragement in finding ideas or in implementing them.

I already miss it now, so to speak. It was a very nice week, also for the adults. It was well organized, also on the part of the Technische Universität Dresden with the support of the scientists.

From a technical point of view, I was very interested in getting to know concrete as a material. The components, the production methods, the research results on this topic, and in connection with the creativity of the artistic colleagues, it was very, very appealing. The idea of the event was excellent, to bring knowledge in a playful, artistic way to a target group that will make a professional decision in a few years and perhaps remember this time.

So I thought it was successful all around, I can't say otherwise."
Andreas Eckardt
Freelance artist and lecturer (Dresden)