Fibre Reinforced Plant Organs as Inspiration for Carbon Fibre Reinforced Concrete Constructions
In sub-project A03, plant organs and structures are investigated in order to derive inspiration for novel carbon reinforced concrete constructions. The sub-project is divided into two strands: the investigation of peltate leaves and the investigation of shoot-root transitions.
Characterisation of the petiole-lamina-transition zone
Aim of this subproject is the anatomical, morphological and biomechanical characterisation of the petiole-lamina-transition zone in peltate leaves, meaning leaves with the petiole inserted centrally or eccentrically on the underside of the lamina. We focus on the comparative analysis of fibre course and orientation at the petiole-lamina-junction of herbaceous, short-lived leaves. On one hand representatives, similar in morphology but different in size and weight, will be examined. On the other hand representatives with large-scale leaves with different morphology will be studied in terms of various structural principles in the junction between petiole and lamina.
With the goal to serve as a biological inspiration for the development of new carbon concrete components, the analysis of these principles focuses on the application of force, damping behavior at the junctions and fibre-matrix-connection.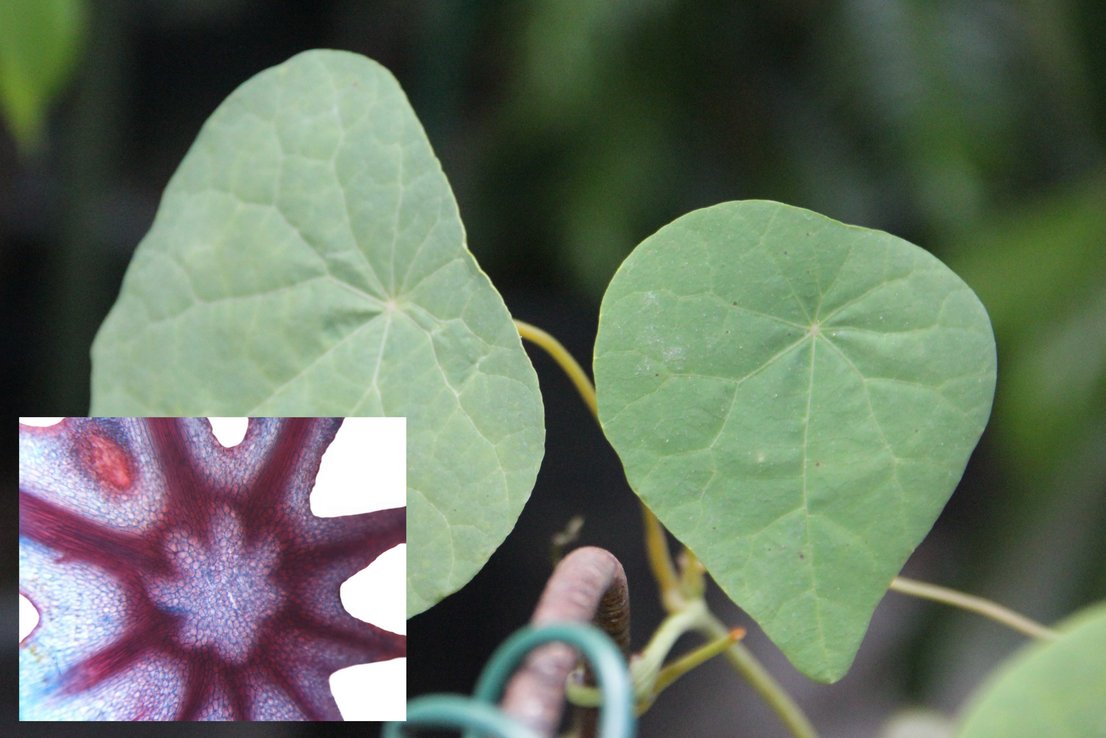 Characterization of root-stem-junctions
The aim of the subproject is the anatomical, morphological and biomechanical characterization of root-stem-junctions in fast growing and lightly or non-lignified plants, especially for aerial prop roots. The emphasis is on plants with either a hollow structure or a core of non-loadbearing tissue. The supporting tissues are thus situated on the outer regions of the shoot. These principles will be investigated for the use in carbon reinforced concrete structures with a focus on force transmission, dampening characteristics in the knot and fiber-matrix transition.
Of additional interest is the adaptive growth of selected plants. This happens as a response to the increased self load during natural growth as well as under external influences such as wind loads or inclined growth. These adaptation strategies will serve as inspiration for the development of carbon reinforced concrete structures.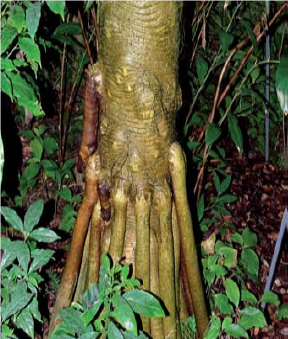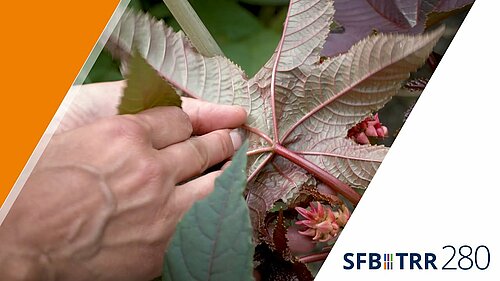 Faserverstärkte Pflanzenorgane im Sonderforschungsbereich/Transregio 280
[Translate to English:] Publikationen
Wunnenberg, J., Rjosk, A., Neinhuis, C., Lautenschläger, T. (2021). Strengthening structures in the petiole-lamina junction of peltate leaves. Biomimetics 6(2): 25.
Rjosk, A., Neinhuis, C., Lautenschläger, T. (2022). Anatomy and Biomechanics of Peltate Begonia Leaves—Comparative Case Studies. Plants 11: 3297.
Student works in funding phase 1
Morgenstern, Tom (2021). Anatomische und biomechanische Untersuchung von Blättern peltater Arten. Bachelor thesis.
Calderon Barrientos, Rodrigo Fernando (2021). Morphologische, anatomische und mechanische Untersuchung der Luftwurzeln von Epipremnum aureum. Bachelor thesis.
Kupfer, Alexandra (2022). Untersuchung der Methode zur indirekten Turgorbestimmung bei Petioli peltater Blätter. Bachelor thesis.