Stability and Quasi-Ductility of Carbon Reinforced Concrete Structural Members
The central question in this project is how to achieve structural behavior with high stiffness in the service condition and, at the same time, a sufficiently large deformation capacity prior to failure using carbon reinforced concrete, a composite consisting of solely brittle material components.
Due to the brittle behaviour of carbon reinforcement, other sources of the stress redistribution need to be exploited in order to achieve the required ductility. During the loading, carbon concrete exhibits local deterioration mechanisms such as debonding and the development of finely distributed cracks along the length of an element. The stress redistribution mechanisms occur especially in tensile zones and are accompanied with stiffness reduction. Methods exploting these mechanisms in the design of spatial thin-walled structures with ductile structural behavior are investigated in Aachen. The long term goal of the numerical and experimental research is to exploit the synergetic potential between form and material behaviour available in folded carbon reinforced concrete shells.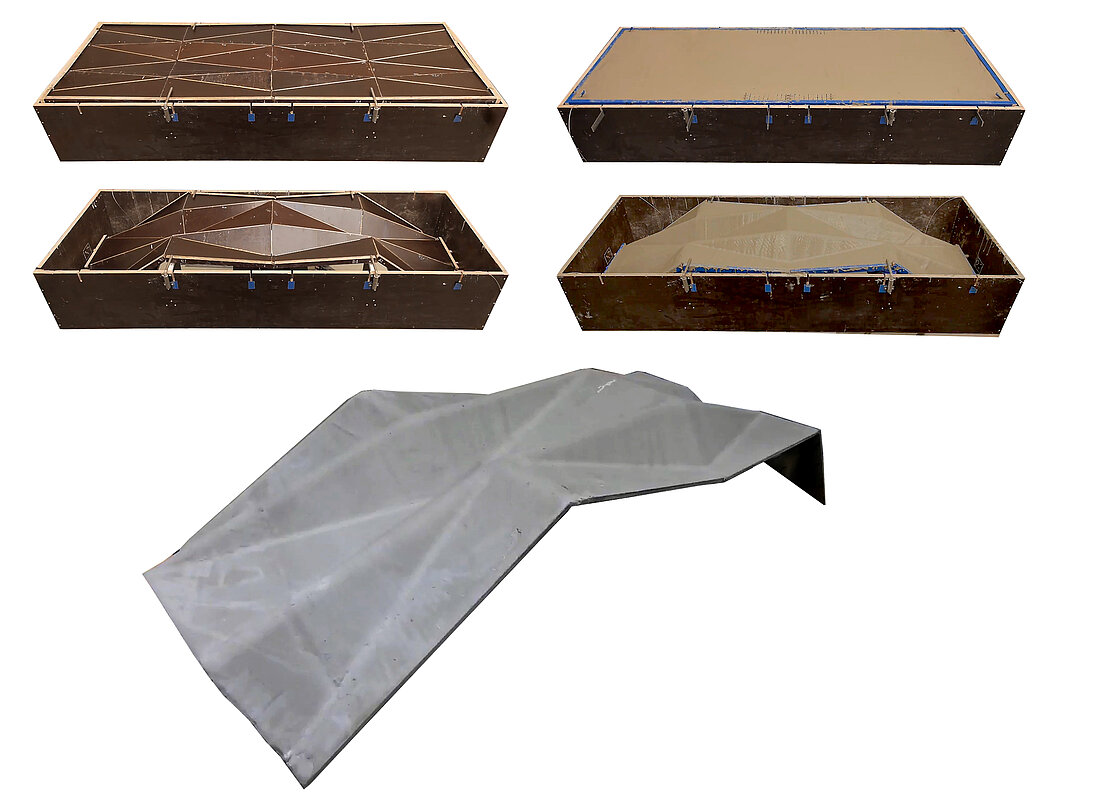 Ehemalige / Former involved
M. Eng. Kai Gebuhr (TU Dresden, 10/2020 – 10/2021)
Publikationen / Publications
Chudoba, R.; Li, Y.; Rypl, R.; Spartali, H.; Vořechovský, M. (2021) Probabilistic multiple cracking model of brittle-matrix composite based on a one-by-one crack tracing algorithm in Applied Mathematical Modelling 92, issue April, p. 315–332 – DOI: 10.1016/j.apm.2020.10.041
Spartali, H.; Rastegarian. S.; Will, N.; Chudoba, R. (2021) Moment-curvature model for flexural assessment of textile-reinforced concrete beams in: Si Larbi, A.; Nassif, H. [eds.] Proc. of 13th International Symposium on Ferrocement and Thin Fiber Reinforced Inorganic Matrices, 21.–23.06.2021 in Lyon, France (online), p. 145–156 – http://dx.doi.org/10.5281/zenodo.5028860